iMake is my idea for an integrations app, automated and customizable actions for private use. This personal project was part of the mentoring program of Startup Designers.
​
iMake is an application, where the user builds integrations with triggers and reactions. These automated actions builts with simple conditional rules, using the connected services of the user.
​
iMake enables conditional automation with "When > iMake" rules, these automation called Spells.
​
When this happens +
iMake this happens = A Spell
Every action we do takes energy, thought, time… these resources are priceless.
​
Our daily routine has action or actions that repeat on a regular or daily basis that our brain does in a half automated way. Without noticing it, these actions take resources that we can use for other things.
​
If we had the ability to put aside these actions, we could free ourselves to do more important things that need more focus and attention. An overall improvement in our life quality…
For example, there is a regular ritual every morning when leaving home. Take the phone and keys, turn off the lights and TV, remember to close the windows and empty the trash… Takes about 3 minutes from our morning routine, 18 hours in a year of, copy, paste, re-paste, re-paste... These precious time and energy are wasted on the same routine actions and we need to be focused to make sure we didn't miss any of the actions (which we sometimes do miss some of them).
all your spells
come true...
I took my study case, mapped it all, looked at the big picture, got lots of conclusions, and decided to build iMake.
​
iMake is an app to build integrations that address a wider audience. My goal is to encourage users with little technical knowledge to be part of the magician community.
​
iMake helps to reduce manual integration so save repeating an action or a set of actions and so relocate these resources for other things.
​
I designed iMake in a way that is easy to understand by focused specification with pleasant and less technical interface with inspiration from other widely known worlds...
The user personal space, where he keeps all of his magic ingredients to make spells. Basically, all his components, which he can use to make integrations.
The more elements the user possesses, the more abundance and variety to create integrations simple or complex.
Mixing elements with services, to craft a new spell. Or... In other words, entering a new Integration process.

The user needs to be focused and doesn't want to be distracted when he crafts his magic spell, that's why this process is on the full screen where not even the bar is interfering.
One of my research insights - When the names are simple, creating integration is more simple.
I used everyday familiar language that is known to all audiences, instead of limiting it to technical terminology language, so it will be easier for the user to understand what he is doing.
​
Integrations are mostly activated by fixed triggers such as home, work, car, speaker… in oppose to current apps, in iMake you can define "Home" as a trigger and any other trigger that is used regularly.
It's much easier to understand what happens "When you get Home" instead of "When you are connected to HotFiberBox1". A more simple approach that in my opinion makes more sense, is to call our home simply "Home" and not use the name of the wifi or GPS coordinates.
I've built the boarding screens that you can define "Elements" right in the registration process. These elements are these fixed regular triggers such as places or devices and you can always easily add a new element to the list and edit it.
Group of elements, suitable for users holding more than one device in one network. For example, users who have a smart home. This feature does not exist in any integration interface I have seen so far.
​
The reason I think this feature fits this app is because in my research, I was exposed to UX ideas from other worlds and I see it necessary for users with many devices.
This feature exists in a wider world, like smart home and managed devices apps such as Xiaomi, Alexa/Google Home, Yeelight... where groups can be created.
​
It's more simple to create integrations as a group if all you want is the whole house to shut down as soon as you leave.
A stock of interfaces that work with iMake.
Services is the screen where the user can discover and connect his active services.
Services are a necessary condition for integration. The more the user connected to services, the more abundance and variety to create integrations.
Services that the phone has to offer such as WiFi, Bluetooth, Clock, GPS… and external services that connect like Google, Spotify, Smart Home…
​
Following my research, I experienced the difficulty of inaccessibility. For example, IFTTT connects to a multitude of services and I was surprised that only through the desktop version, I can see all the variety of interfaces the app has to offer.
Following the conclusions, I decided to make one organized screen of all the existing services on the market, that works with iMake (Like in Google Play, or Alexa Amazon Skills…)
​
Entering Services, the user will find all of his activated services which are already connected to iMake.
Also, he will find the "Discover services" button, where he can search for new services in the market and connect them according to his needs and devices.
Another insight after my research showed the importance of some buttons, their visibility and accessibility.
In my research, I've experienced the exact opposite and how the lack of accessibility affected my usage experience.
This insight led me to the decision to make the "New Spell" button for creating new integration as visible as possible, in an accessible location and available at all times. This is why I decided to place it at the center of the bar in the lower part of the app.
​
When clicking the button you go straight into the first step to create a new integration. You can recognize the start of a new integration by the big "When" that is visible. On this screen, you choose the trigger and go to the next screen. The next screen is iMake, in which you choose the action that will happen.

There are 2 types of conditions, positive and negative. This means there are 2 types of "When", when something happens or doesn't happen. Both are 2 steps, simple integration for beginners.
When this happens
Positive condition
​
When the triggers are triggered, the conditions for activating the integration are happening
When this happens
v
iMake this happens
When this NOT happens
Negative condition
​
When the triggers are NOT triggered, the conditions for activating the integration are happening
When this NOT happens
v
iMake this happens
Backup integration.
From the thought of not complicating the user, not making him calculate in advance or trying to figure out what kind of integration he is going to produce, I decided that any integration would always start the same way, as a simple two-step spell.
Make it Super Spell
The second step can end the integration creation by "Make a spell". But if the user still decides to continue the process, he will click on "Make it Super Spell", which will automatically continue the integration and turn it into four complex steps Super-Spell.
​
One way to look at this integration is:
Plan A - A simple spell, but if for some reason the action is not activated, go to plan B.
Plan B - Backup triggers are activated, which could lead to different actions from Plan A.
Complex integration for advanced users, built from 4 steps.
When this OR this happens
Backup condition
​
When triggers are activated, the conditions to activate the integration is happening.
​
OR
​
Backup triggers are activated, the conditions to activate the integration is happening,
but leads to different actions
When this happens
v
iMake this happens
v
OR When this happens
v
iMake this happens
Hello!
My name is jenny.
I'm also a member of the magician club.
Jenny (41), HR, lives in Chicago, a single mom to 10-year-old Max
Max wants a dog for ages... After many talks, Jenny agreed that Max is big enough to take care of a dog and they decided to adopt Oscar. Max promised to take care of Oscar without his mom worrying about it, so Jenny saw it as an opportunity for Max to be more independent and take more responsibility. Still... Jenny wants to track Max's progress by using tools that disposal available to her.
Jenny uses iMake for a few months already. In preparation for the new family member, Jenny decides to install iMake on Max's phone, to create an integration that will help him take care of Oscar.
​
Jenny opens iMake on Alex's phone and creates a new spell:
Jenny creates a new negative condition integration
Adds 2 triggers:
Out of home
Between 13:00 - 17:00
Makes 2 actions:
Notification "Walk the dog"
Text mom "Walk the dog"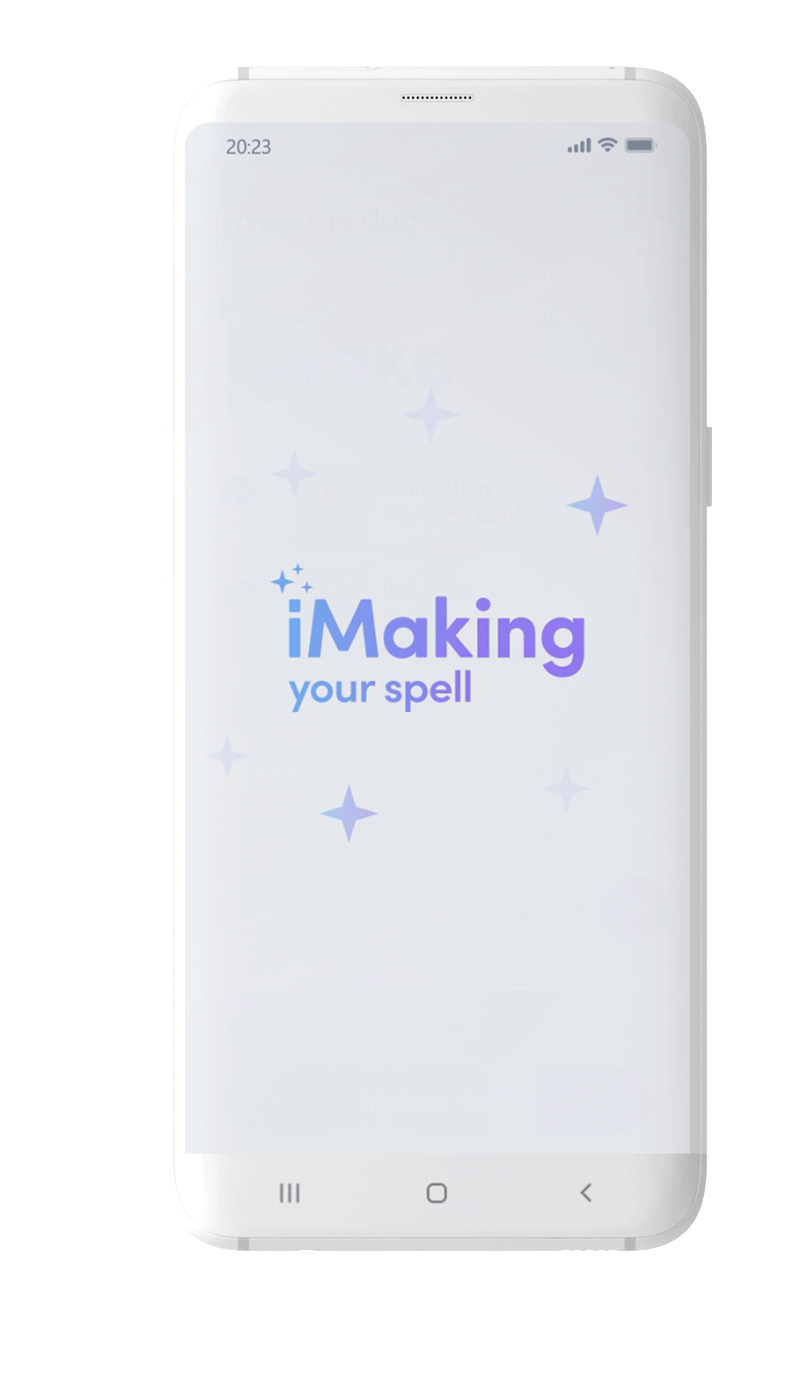 Now jenny can see first spell added to Max's collection
17:00 two weeks later, the spell was activated, when Max was gaming and lost track of time
Walk the dog
​
When I'm NOT
Out of Home
Between 13:00 - 17:00
v
iMake
Notification "Walk the dog"
Text mom "Walk the dog"
​The magician's personal book of spells collection.
Book of Spells is actually a book of integrations stock.
​
As part of the magician community, the user can share his spells or discover new spells sharing by the app or by other magicians
Every spell can be edited, cloned, shared and trial activated. You can easily clone an already working integration, change its hours and save it as a new integration. I was surprised that these actions are not available in most apps and on IFTTT it can only be done on their website.
​
Scroll left and right in the book of spells to move between these 3 groups:
The magician's private collection.
The user personal integrations stock that he created and collected.
External Spells.
Integrations that were done by the system or other users.
These integrations are constantly updated and each one can be added to My Spells and edited to my needs.
Search for new spells.
Search for integrations by keywords from all the spells in the book (personal and external).
Also, there is an advanced search option with filters. Search results can be sort by relevant results according to the user elements.