Search for the "Good morning" spell and open it for edit
Skip to the end to add more steps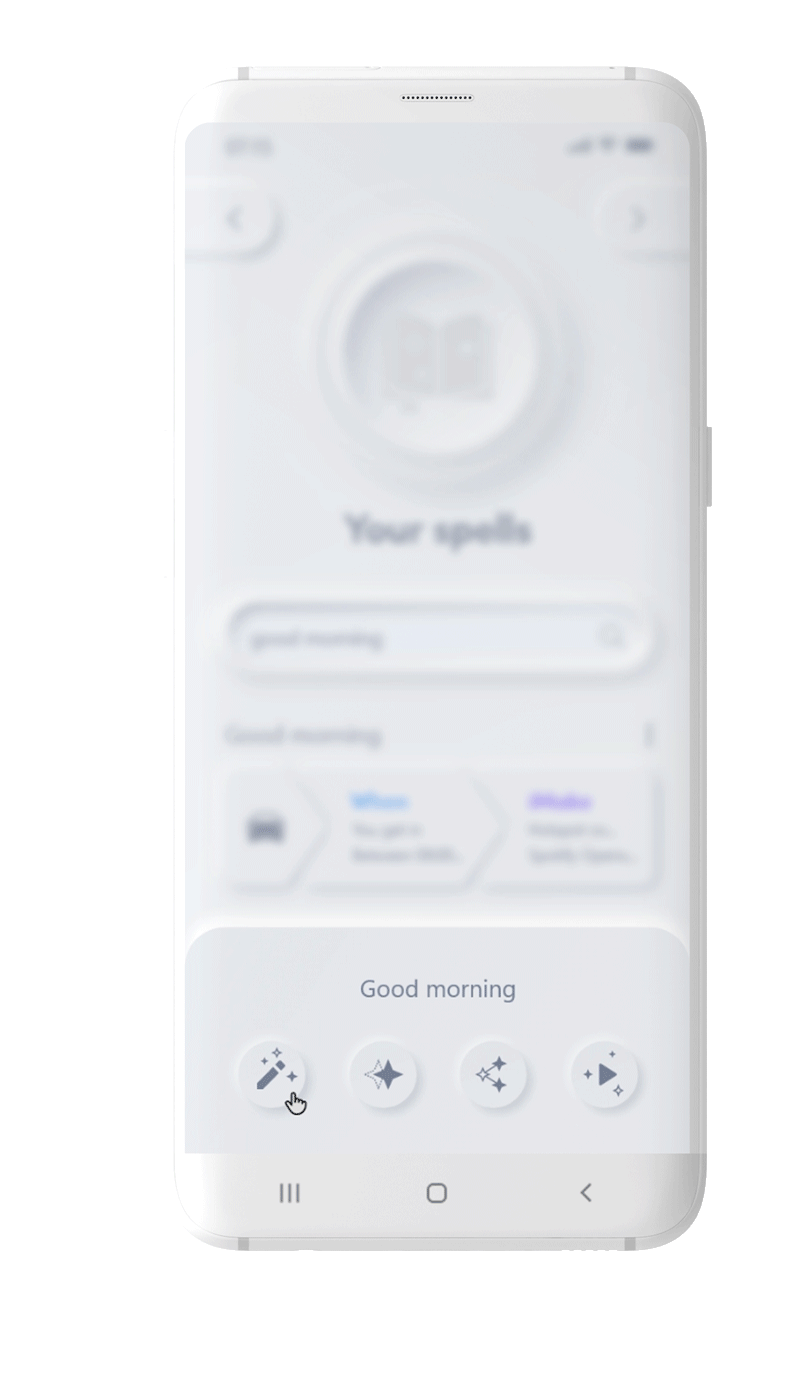 Skip directly to the 4th step. No need to fill step 3rd since the triggers are the same.
Fill it and create a backed Super Spell under the same name
Press "Make it Super Spell" that opens 2 more steps for advanced integration
The list shows that the spell structure was changed
Good morning
​
When I'm
Getting In the car
Between 08:00 - 09:00
v
iMake
Hotspot connected to Car
Spotify open on Car
OR
​
When I'm
Getting In the car
Between 08:00 - 09:00
v
iMake
Waze open and navigate to Work
Spotify open
Dan (26), Single. Lives in Allenby, Tel Aviv. Hitech employee, Works in Ra'anana's industrial area.
​
Dan leaves home for work every day at the same time. The drive from Tel Aviv to Ra'anana is long with a lot of traffic jams. Dan uses Waze every morning to check the traffic and also likes to listen to music. This is his way to make the most of this time and to get to work full of energy.
Sometimes Dan forgets to turn on the HotSpot on his phone before starting to drive, which forces him to drive without Waze or music because he can't operate his phone while driving. These days, driving wasn't very enjoyable and it affected his whole day.
Now Dan has iMake. Dan created a spell called "Good morning", for when entering the car the HotSpot will connect to the car multimedia automatically and Waze is open and Spotify continues to play music in the car multimedia. It worked fine but it didn't cover those cases on which the HotSpot did not connect and broke the rest of the action. It rarely happens but when it does, it ruins Dan's morning.
Dan decides to edit the spell and make it Super Spell, which will cover all options and fits all his needs.
Dan open iMake: